ATTRACTIONS IN AND AROUND DALMALLY
Located in one of the most beautiful and legendary areas of Scotland.
Adventure Starts Here
This area is arguably one of the most beautiful and legendary in Scotland, with tales of massacres, intrigue and romance.
People may think we are in the middle of nowhere but we are privileged to be in the middle of everywhere, Glasgow, Stirling, Oban and Fort William which are all within easy driving distance with a wealth of tourist and visitor attractions on offer as well as spectacular scenery.
Climbing and Hillwalking – Spectacular all year round climbing and hillwalking.
There is a view from the hotel to Ben Cruachan, the highest peak in Argyll at 1126m -it's only 5 minutes' drive to the start or walk from the hotel.
Within 15 minutes' drive there are six Munros and three Corbetts including the 1130m peak of Ben Lui – traditionally the last mountain to cast its snow and the queen of Scotland's hills.
Glencoe is 45 minutes away with the Aonach Eagach, the most difficult ridge traverse on the mainland, The Buachaille Etive Mor, the most photographed hill in Scotland, and the White Corries Ski Centre, the first of its kind in the country for skiers and snowboarders.
Tyndrum is 20 minutes' drive and a major crossroads of the highlands. Near here is the loch where Robert the Bruce cast his sword before escaping down the length of Glen Dochart. Legend says the sword is still in there.
Rannoch Moor, just a few miles north of Tyndrum, offers a wild and empty landscape framed by the high mountains. Golden Eagle soar above the moor, otters can be seen near the rivers and pine marten come out from the woods to feed late at night. If you are very lucky, you may even see a wildcat, though it will probably see you first!
Loch Lomond is a short drive too and the most beautiful loch in Scotland with its many islands and beaches. Cruises depart from various locations and a small population of wallabies live on the largest island.
West Highland Way
We are a 20 minute drive from the West Highland Way which is for the dedicated challenger.
Fishing and Stalking – Permits are available locally, on the River Orchy and Loch Awe, as well as boats for hire. Permits are available from Loch Awe store.
Also just 4km away we have the beautiful Kilchurn Castle around 1440 stands at the head of Loch Awe, and Duncan Ban Macintyre's Monument standing 44ft high on the old military road from Inverary to Dalmally.
St Conan's Kirk at Loch Awe which is beautiful and full of history. It has an effigy of Robert the Bruce and many more interesting things to see.
Skiing and Snowboarding
White Corries Ski Centre Kingshouse, Glencoe,  01855 851226 A82 north to Glencoe.This is the oldest ski area in Scotland operating since 1956 with a huge choice for all abilities, including the longest vertical descent of 2600ft/792m and the steepest on-piste black run in Scotland "The Flypaper".
Nevis Range – Torlundy by Fort William, www.nevis-range.co.uk 01397 705825
A82 north to Fort William. Scotland's highest ski area and only mountain gondola (suitable for most wheelchair users).
Walking, cycling and sight-seeing – take the gondola to the top station for the wayward trails and viewpoints plus restaurant, bar and shop. From the base station, access miles of forest tracks on foot or by bike. Skilled riders use the gondola to access the 3km downhill mountain bike track in the season.
Dalmally
Scottish Gaelic: Clachan an Dìseirt or Dail Mhàilidh
Dalmally Bridge over the River Orchy was built by Ludovic Picard, an architect who worked for Lord Breadalbane. In 1781 he built various edifices at the western end of the Breadalbane Estates: Dalmally Bridge, the Bridge of Awe, which was swept away in 1992, Dalmally Inn, a renovated church, and several other houses in the area. Dalmally Bridge was built to make movements of cattle and troops easier: it was on the military road between Tyndrum and Oban. Since 1781, Dalmally Bridge has been strengthened and repaired. It withstands the force of the river in spate, and is a favourite spot from which to look for trout and salmon.
There are four castles on Loch Awe: from north to south, Kilchurn (the best-known), Fraoch Eilean, Innisconnel, and Fincharn. There may also have been a castle near where Castle Farm now stands. There was also a castle at Achallader, at the head of Glen Orchy. The castles on Loch Awe were once served by boats, probably galleys – the island near Innisconnel is Innis-Sea-Rhamach, the island of the six-oared galleys. Kilchurn was built, probably in 1437, by Sir Colin Campbell, the First Laird of Glenurquhay. Fraoch Eilean is a 13th-century hall house with a defensive wall, granted to Gillechrist MacNachdan by Alexander III in 1267. Innisconnel was built by the Campbells of Argyll, then taken by the MacDougalls, and finally granted again to the Campbells by Robert the Bruce, whom they had helped in his battles. Fincharn Castle is probably 13th century. According to legend, soon after it was built it was burned down in a quarrel between rival families, and has never been inhabited since. Only Kilchurn is easily accessible. Fincharn requires permission from the farm, while Fraoch Eilean and Innisconnel need boats.
Taynuilt Highland Games
A great day for all the family
The games are held in July every year and comprises of competitors from all over, categories include Piping, Highland Dancing, Field Events, Track and Field and what highland games would be complete without Tossing the Caber and Tug 'o' War. There are also some kids events too.
Oban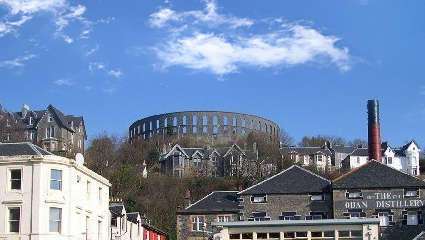 Known as the "Gateway to the Isles" Oban is just a short drive from Dalmally.
Kilchurn Castle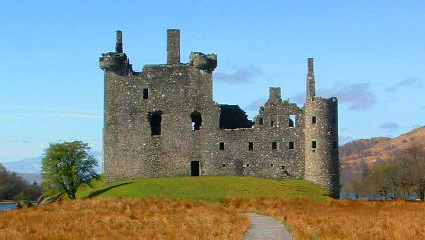 Kilchurn Castle was built in about 1450 by Sir Colin Campbell, first Lord of Glenorchy, as a five storey tower house with a courtyard defended by an outer wall. By about 1500 an additional range and a hall had been added to the south side of the castle. Further buildings went up during the 16th and 17th centuries.
Nevis Range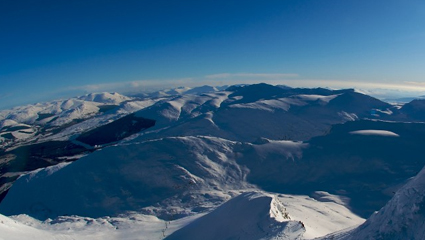 Spectacular range of mountains surrounding Ben Nevis which is the highest mountain in the British Isles standing at 1,344 metres (4,409 ft) above sea level.
Sports
Glenorchy Camanachd Old letters and poetry show that organised shinty was played in Dalmally in and about 1880. These games were played by teams from each side of the River Orchy for a cup presented by a Mr Macdonald, who had returned from Australia. The contests took place on New Year's Day and continued up to 1932. While the game continued to be played in the district, it was not until 1947 that Glenorchy Camanachd was formed. They still play home games at Mart Park Dalmally.

Taynuilt Golf Club is a nine hole course founded in 1987 The stunning views of Ben Cruachan and Loch Etive make this one of the most enjoyable courses to play in the area.

Oban Lorne Rugby Club 2013 RBS Bowl and West Division Champions, established 50 years ago Oban Rugby Club still keeps fans on the edge of their seats. They can be seen playing home games at Glencruitten Playing Fields Oban. Please check their website for fixtures.

Atlantis Leisure Centre based in Oban Atlantis offers sport & leisure for all ages including swimming pool with flume for the kids, sauna, fitness classes, racket sports and much more. There is also a cafe on the premise serving hot food and soft drinks.